So here's your future...
After playing an opening slot at a House of Blues show a few months back, The Thermals return to the much more fitting confines of the Casbah tomorrow night. No knock against the band — they fired up a large, focused crowd as the surprise opener for Sleater-Kinney's farewell shows in PDX — but their power pop/punk hybrid sound is just built for bouncing off the walls of a small club.
The Thermals — Returning to the Fold (MP3)
The Thermals — Test Pattern (MP3)
The opener is another Portland band called Wet Confetti. Their debut, "This Is So Illegal, Do It Fast," was lo-fi to a fault, but their latest album, "Laughing Gasping" is a leap forward. A great band for those who are bummed about Pretty Girls Make Graves breaking up or for people who could never get into them in the first place.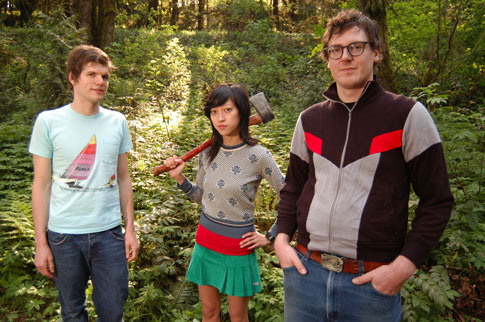 Wet Confetti — Sorry Dinosaur (MP3)